Monday 8 July
A special tribute to Sir John Brunner, 100 years after his passing.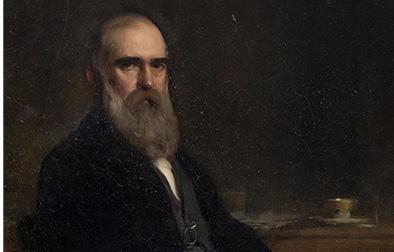 This indeed is a very Special Speakers meeting where the main presenters are Rotarians and the topic is relating to Sir John Brunner as this year marks 100 years since his demise. It is with great pleasure that we will have Sir Hugo Brunner, the great grandson of Sir John Brunner, with other members of family attending the meeting.
Steve Wheat, a past president of our daughter club, the Rotary Club of Northwich Vale Royal who is also a retired manager of the Winnington Combined Heat and Power Plant works (formally on the site of ICI and Brunner Mond) will make his presentation relating to the beginning of the Brunner and Mond's business through to ICI and the current day of this industry, which is renowned world-wide and has put Northwich on the map for prosperity.
Our own MC, Nick Marsh whose family and own life long knowledge of the various aspect relating to the Brunner family and the "local" industry will add to Steve's presentation in his own style that is greatly appreciated by all at these meetings.
The format is as usual:-
11.45am
Doors open for all to get their drinks, meet up with old and new friends and grab a table
12.30am
Proceeding start with Rotarian MC Nick Marsh making announcements leading straight to the buffet luncheon
13.15pm
Suitably refreshed Nick Marsh will introduce the presenters
John Walton – the River Festival, Peter Holland – the Beer, Gin and Wine Festival, Tony Rowe/Rupert Adams - Bonfire Update,
Chief Inspector of Police, Sarah Edgar – local Policing update
13.30pm
Nick will introduce Steve Wheat to the floor with support from himself
14.15pm
Question and Answer Time
14.30pm
Meeting ends
The cost to attend this event is as usual £8.50 and there will be the 2 course buffet luncheon with tea or coffee, please advise if you have any dietary requirements.

Please confirm by email to
northwichrotaryss@gmail.com
if you would like to attend as I expect this very special speaker meeting could be over subscribed as we will be limited by the catering capacity. Alternatively you can contact Emma Bantock, Heather Kearns or Clive Steggel on
01606 48521.
We have to advise the caterers of the numbers on the Friday before the event
at 2pm
, so please confirm before that time and date of your attendance. Unfortunately those that book and do not advise that they are unable to attend
before Friday 5th July at 2 pm
will have to be charged accordingly as the caterers rely on the number we supply and we have to pay the caterers in full for the meals booked.
Any one attending and not wanting any food we will donate their £8.50 to the Foundation Fund of Northwich Rotary Club.
Our list of attendees is not limited so if you know of anyone who would like to attend, please ask them to book in accordingly.
Northwich Library & Weaver Hall Museum celebrate Sir John Brunner's Centenary
Throughout July, Northwich Library will be hosting an exhibition to mark the 100th Anniversary of Sir John Brunner's death. Starting Saturday 13th July, as part of the town River Festival, there will be a pop up exhibition organised in partnership with Weaver Hall Museum and supported by the Northwich Arts Festival, which will tell the story of Brunner Mond and the contribution Sir John Brunner made to Northwich. The Museum worked with Youth Programmers Emily Harrison and Smriti Sivakumar to curate the exhibition, which will also feature items on display from the museum's collection.
During July, there will also be an exhibition of unique local history photographs on display, taken during the 1930s by local photographer H. Emmett, a Fellow of the Royal Photographic Society and former Winnington resident. The photographs feature local landmarks, including ICI Rudheath and Wallerscote Works, with one particular image "Light and Shade" shown in the 1934-35 Northern International Photographic Exhibit at Manchester City Art Gallery. Emmett's work also featured in the in-house ICI Magazine. These photographs have been kindly loaned to the Library Service by Andrew Blears.
The exhibition will be free to view at Northwich Library; if you're not currently a library member you can join for free, either online or at any Cheshire West Library.
For more details enquire at your local library
www.cheshirewestandchester.gov.uk/libraries